Robert '63 and Eleanor Davids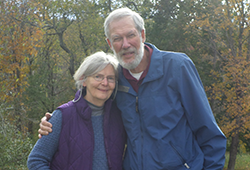 "The education I received at Delhi provided me with the tools to launch a successful career in railroad engineering, maintenance and safety. That career began in Albany, NY in 1963 and continues part time in New England. After retirement from the Federal Railroad Administration in 2003, I have been employed by engineering firms on several projects.
My wife Eleanor and I had our wills rewritten a few years ago and I decided that a conditional bequest to the College Fund at Delhi would be appropriate. Maybe that gift would allow another student to receive an affordable education. That bequest takes into consideration my wife's financial security if I predecease her."
Robert Davids '63